Upcoming Information Meetings
| Date | Hub | Location | Contact | Details | |
| --- | --- | --- | --- | --- | --- |
| October 2, 2023 | West Hub | Mountain Home | The Rock Event Center | Monique Layton | Region 4 | October 2, 2023 | Info |
| October 3, 2023 | North Hub | Online | Zoom Meeting | Mishaela "Shae" Mouchett | Region 1 | October 3, 2023 | Info |
| October 3, 2023 | East Hub | Online | Zoom Meeting | Camille Rigby | Region 6 | October 3, 2023 | Info |
| October 5, 2023 | East Hub | Online | Zoom Meeting | Camille Rigby | Region 7 | October 5, 2023 | Info |
| October 17, 2023 | North Hub | Online | Zoom Meeting | Margaret Zysk | Region 2 | October 17, 2023 | Info |
| October 17, 2023 | Statewide | Online | Zoom Meeting | Shawn White | Wednesday's Child | October 17, 2023 | Info |
| October 19, 2023 | East Hub | Online | Zoom Meeting | Susan Baca | Region 5 | October 19, 2023 | Info |
| October 19, 2023 | West Hub | Boise | The Community Center | Monique Layton | Region 4 | October 19, 2023 | Info |
| October 24, 2023 | West Hub | Online | Zoom Meeting | Heidi Belt | Region 3 | October 24, 2023 | Info |
| November 2, 2023 | East Hub | Online | Zoom Meeting | Camille Rigby | Region 7 | November 2, 2023 | Info |
| November 6, 2023 | East Hub | Online | Zoom Meeting | Susan Baca | Region 5 | November 6, 2023 | Info |
| November 7, 2023 | North Hub | Online | Zoom Meeting | Mishaela "Shae" Mouchett | Region 1 | November 7, 2023 | Info |
| November 14, 2023 | East Hub | Online | Zoom Meeting | Camille Rigby | Region 6 | November 14, 2023 | Info |
| November 14, 2023 | Statewide | Digital Meeting | Shawn White | Wednesday's Child | November 14, 2023 | Info |
| November 16, 2023 | West Hub | Greenleaf | Greenleaf City Hall Meeting Room | Heidi Belt | Region 3 | November 16, 2023 | Info |
| November 21, 2023 | North Hub | Online | Zoom Meeting | Margaret Zysk | Region 2 | November 21, 2023 | Info |
| November 29, 2023 | West Hub | Online | Zoom Meeting | Monique Layton | Region 4 | November 29, 2023 | Info |
| December 5, 2023 | North Hub | Online | Zoom Meeting | Mishaela "Shae" Mouchett | Region 1 | December 5, 2023 | Info |
| December 5, 2023 | East Hub | Online | Zoom Meeting | Camille Rigby | Region 6 | December 5, 2023 | Info |
| December 7, 2023 | East Hub | Online | Zoom Meeting | Camille Rigby | Region 7 | December 7, 2023 | Info |
| December 12, 2023 | Statewide | Digital Meeting | Shawn White | Wednesday's Child | December 12, 2023 | Info |
| December 13, 2023 | East Hub | Online | Zoom Meeting | Susan Baca | Region 5 | December 13, 2023 | Info |
| December 19, 2023 | North Hub | Online | Zoom Meeting | Margaret Zysk | Region 2 | December 19, 2023 | Info |
| December 21, 2023 | West Hub | Online | Zoom Meeting | Heidi Belt | Region 3 | December 21, 2023 | Info |
| December 27, 2023 | West Hub | Online | Zoom Meeting | Monique Layton | Region 4 | December 27, 2023 | Info |
Request a Presentation for your Group or Church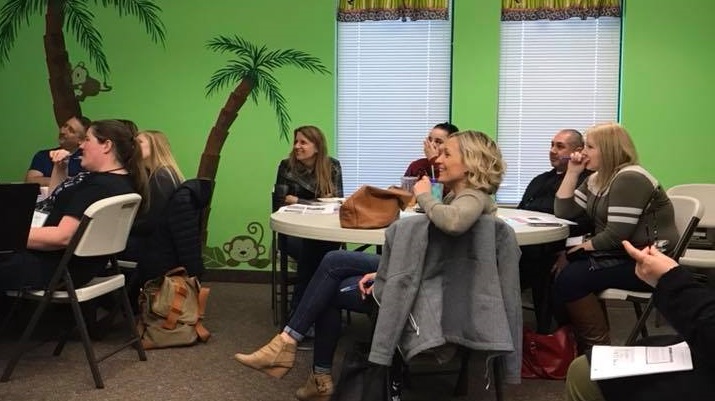 Scheduling Requirements:
If you have a group interested in learning more about fostering, but are unable to attend a community event, we are happy to come to you! Fostering Idaho team members are happy to customize a presentation on foster care for your group, church, or business. We ask that all requests are for groups of at least six (6) individuals or more. If you are interested in scheduling a presentation, please submit the brief form below and a Recruitment Coordinator will contact you shortly.
Want to Foster?
Here are the steps and requirements to becoming a licenced foster parent.